Career development to engage, retain, and grow your employees.
Career development is more than providing access to training opportunities. It's about investing in your employees' career growth and empowering them to take ownership of their career journey. People First's career development solutions help to put your business strategy into action as we work with your leaders and employees to ensure an effective partnership.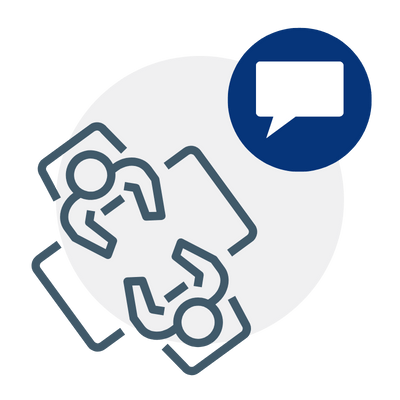 Career Conversation Workshops
Empower your employees to take ownership of their careers, unlock their potential, and invest in their futures with career conversations. Leaders and employees will learn the components of a career conversation in a workshop designed for their career level.
Leadership workshop
Clarifying roles and responsibilities
Preparing to lead a career conversation
Employee workshop
Understanding change in your career
Non-traditional career development concepts
The career development process and the employee's role within it
Career Coaching
Career coaching supports individuals struggling with their career plans and aligns their skills and abilities with opportunities within the organization. Through the program, individuals focus on the strategies needed to find their next move, building upon an already successful and rewarding career.
Employers can provide career coaching alone or as an addition to the career conversation workshop.
Why organizations provide career coaching
Align employee development with business strategy and organizational needs
Increase retention and engagement of those employees who are part of the organization's succession plan
Enhance performance and unleash potential in employees while strengthening the organization as a preferred employer
Start supporting your team's career development journey today
Contact us for more information on our career development solutions. We value that every organization has different needs. We are happy to work with you to align our solutions with your organization's people processes, programs, initiatives, and unique employee needs.
"*" indicates required fields